Description
Drift machines finished in a powerful design with numerous aero parts such as over fenders and large wings can be stored with plenty of room! Large size Rêve D original RC bag!
Inside the front flap that opens and closes with two fasteners, a large corrugated plastic inner box with a width of 510 mm, a depth of 260 mm, and a height of 155 mm is placed in two stages. It can store everything necessary for driving, such as a transmitter and a charger, as well as a machine equipped with a large body.
The bag body is compatible with both shoulder straps and handheld devices, and a soft pad is attached to the back of the body to reduce the burden on the body during transportation.
Please use the Rêve D RC big bag that is particular about the size and ease of use!
■ Product dimensions
・ Main body outer dimensions: 580 (W) x 320 (D) x 420 (H)
・ Inner box inner dimensions: 510 (W) x 260 (D) x 155 (H)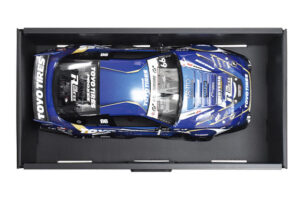 * 479.5 mm x 198 mm WISTERIA 180SX There is still plenty of room to store the body!